Sunset 3440 with Maria Kofler
As a bon vivant and sportsman, there is only one place you want to be on this day: Café 3440!
With a far-reaching view of over 50 3,000-metre peaks, the sky slowly turns into a sea of colour.
The breathtaking natural spectacle is musically framed by saxophonist Maria Kofler.
Those who prefer a more sporty approach can ski down to the valley with a ski guide and torches as part of the "Blue Run".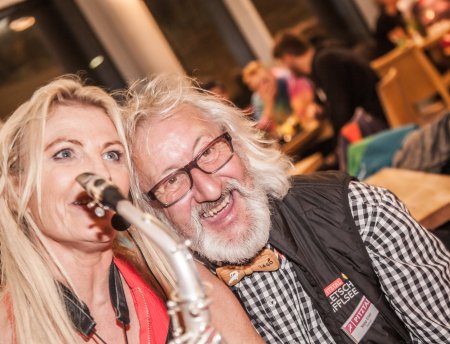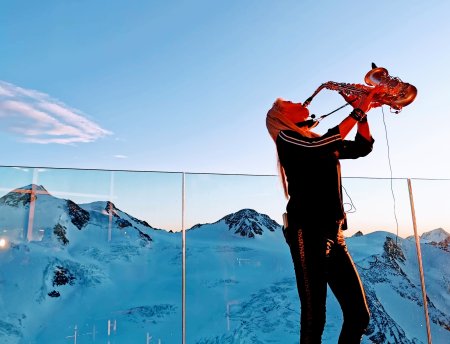 Programme:
from 3.30 pm // Sundowner at Café 3440 with Maria Kofler
5.45 to 6.15 pm // Sunset
until 6.30 pm // cosy end of the evening
Ascent and descent:
First ascent Gletscherexpress 08.45 am, from 09.00 am the Glacier Express runs continuously during normal operating hours every 20 minutes until 4.20 pm.
6.30 pm Wildspitzbahn descent
6.45 pm Gletscherexpress descent.
Note:
A valid day ticket (ski pass, season ticket or pedestrian ticket) permits you to take part in the sunset event at Café 3440. No registration required!
This event is partly an outdoor event. In case of adverse weather conditions, the event will take place at the subsitute date 25 FEB.
You can find the current time table of the bus here.
Next date for Sunset 3440 with Maria Kofler at Café 3440:
24 MAR 2023