We love spending time and the open space in our wonderful mountain world. For this we need a healthy ecosystem. Because it is nature for all of us, we are committed to careful and environmentally compatible use. We work consistently to improve our ecological footprint on an ongoing basis.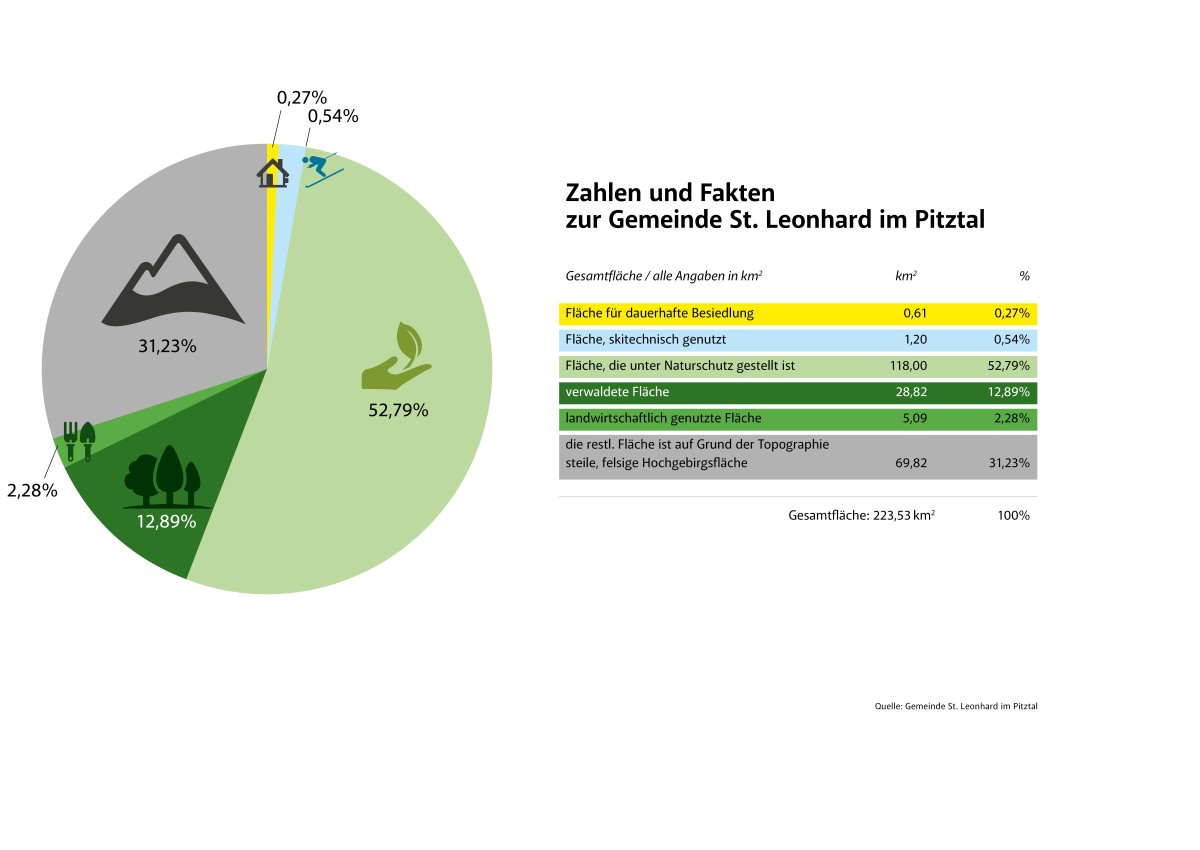 Numbers & facts to the municipality St. Leonhard in Pitztal
52,79% of our region // municipality areas are under nature conservation
0,27% are permanently populated
0,54% are used as skiing area
In Austria's skiing areas 70 per cent of the slopes are artifically covered with snow, in South Tyrol this percentage lies at around 90 per cent. Things are different at us. The reason lies within our altitude.
Snow Farming & Glacier fleece
In recent years, the formation of snow depots has become established on the Pitztal Glacier, which are covered with a glacier fleece over the short summer months. This has the advantage that the snow is preserved over the summer and we can guarantee a season start at the end of September.
100 Prozent erneuerbare Energie
The Pitztaler Gletscherbahn is a pioneer in the field of electricity generation through the power of the sun, especially as the company was the first cable car operator to set up a photovoltaic system of this dimension at this alpine altitude – at 2,840 m – as early as 2015.
A perfect slope preparation is as important for a good skiing experience as well as for the reduction of skiing accidents. At the moment our snowcats are powered by diesel. In order to reduce our C02 emissions in the medium term here as well, we are testing, evaluating and observing good alternatives.
A sustainable construction method of high aesthetic quality is our clear aspiration. We understand this to mean the conscious handling and use of available resources, minimisation of energy consumption and a lower use of space.
The daily travel for our employees and guests to our skiing and hiking areas has a significant impact on our carbon footprint. We are therefore constantly working to reduce it. We have taken an important step by increasing the frequency of public transport. But that is not all. Furthermore, we are constantly monitoring and evaluating the use of renewable or CO2-neutral fuel as well as the gradual conversion of our company transport to e-mobility.
Less waste // waste disposal
We fulfil our waste disposal according to strict standards. This is not only our claim, but also the legal situation in Austria is very strict. However, our goal must be to reduce waste as much as possible and to use materials that can be recycled. There are many small steps that we take, such as the use of reusable cups in our bar – the Weitblick Lounge, straws made of paper, bamboo instead of plastic dishes at events. All in all, many small steps contribute significantly to conscious waste management.