Goosebumps moment for eternity
Austria's highest registry office is situated on the Pitztal Glacier
When not only the wedding party gets all dressed up, but also towering 3000-metre peaks make an appearance: A wedding on THE HIGHEST OF TIROL! Your wedding day is a very special day in the life of every person. This is why it is not only the ambience that should be special, but also the place where the knot is tied. Special can be anyone's word, but how about extraordinary? The highest registry office in Austria is situated on the Pitztal Glacier – THE HIGHEST OF TIROL – at 3,440m.
The Café 3440 is not only the highest registry office, but also the highest wedding venue in Austria.
Key data on the registry office and the event location:

Wedding ceremonies can always be arranged from Monday to Friday (excluding public holidays)
The Café 3440 can accommodate a very small number of people, from 2 to 30.
The ceremony takes place in a specially designated room at the 3440 so that exclusivity can be guaranteed
The gallery can be reserved for a celebration afterwards
Unfortunately, there are no sleeping facilities at

THE

HIGHEST

OF

TIROL

The in-house confectionery shop can also provide a personalised wedding cake on request
You will have no issues with getting here and back with the Gletscherexpress and the Wildspitzbahn
The regular operating times must be taken into account during planning
Sporty guests have the opportunity to ski down the slope


Note
Even a wedding at alpine heights should be well planned! Before you start planning the details of your wedding, please contact Christian Melmer – your registrar at the Café 3440.
He will also inform you about the necessary documents, costs and requirements for an official ceremony at THE HIGHEST OF TIROL. We will then clarify the details of your wedding with our event team.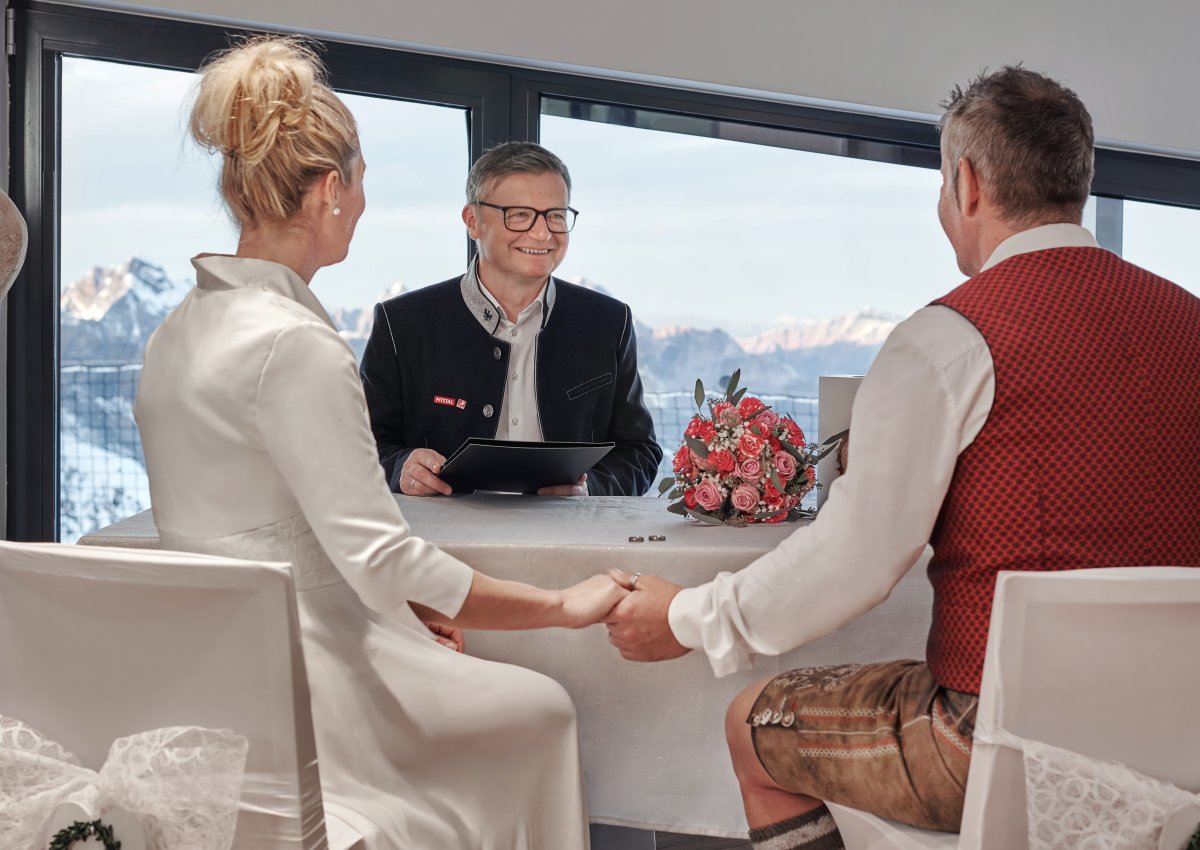 Our partners for your goosebumps moment
Culinary delights, a celebratory table, floral delicacies or unforgettable pictures: Have you already found your soulmate, but have yet to finalise the details of your wedding celebration at THE HIGHEST OF TIROL? No problem! We have the perfect partner for you.
Request your Goosebumps date here //
15 JUL 2022 to 05 MAY 2023
As soon as a suitable date has been found, it is time to start planning the details together with our event team. From the reception to the individually created wedding cake to the small details: We have what it takes to make this an unforgettable moment for you. Please let us know what you have in mind. We would be happy to prepare a quote for you with information on the costs involved!