The Wildspitzbahn - Austria's highest cable car
8EUB Wildspitzbahn as a replacement for the GUB Pitz-Panoramabahn
Naming of the 8EUB Wildspitzbahn
The mountain station for the 8 EUB "Wildspitzbahn" is situated at an altitude of approx. 3,440 m and shares the same location as the former mountain station of the GUB Brunnenkogelbahn / Pitz-Panoramabahn. The site for this is located directly on the Brunnenkogel and is supported by overlying rock. At this elevation, the glacier extends directly to the station of the 8 EUB. The whole area around the mountain station is avalanche-proof. The site is well suited for the construction of the station and the foundation is embedded in the bedrock with an embedding depth of at least 1 m. Construction period: 2011 and 2012
Construction time: 2011 and 2012
The bridge drive as well as the hydraulic cable tensioning and the station conveyor systems are situated at the valley station. The railway station for all operating equipment is also located here and is constructed as a basement dead-end track station. The transformer station is also located in the basement. The maintenance platform is positioned in close proximity to the inclined conveyor. All of the technical equipment is consequently protected from the effects of the weather. The valley station is situated approx. 100 m south-west of the Gletscherexpress mountain station as well as the glacier restaurant at an altitude of approx. 2,840 m. This site provides the best prerequisites for a cable car station, since it is accessible in summer over an access path and all year round via the funicular railway.
The Pitz-Panoramabahn, the operations of which ceased in 2012, led up to the Hinterer Brunnenkogel with the highest elevation in the ski resort at 3,440m. It is customary for mountain railways to be named after the peak or ridge they access. When it came to the 8EUB Wildspitzbahn, which replaces the 25 unit GUB Pitz-Panoramabahn, it was not the intention to choose a name that was similar to the one already used in the ski resort by the "Brunnenkogel" T-bar lift.
Since the summit of Tyrol's highest mountain – the Wildspitze at 3,770 m – lies right at your feet when you are standing on the Hinterer Brunnenkogel, the new lift system was named "Wildspitzbahn" on account of its view, the proximity to this well-known and prominent peak.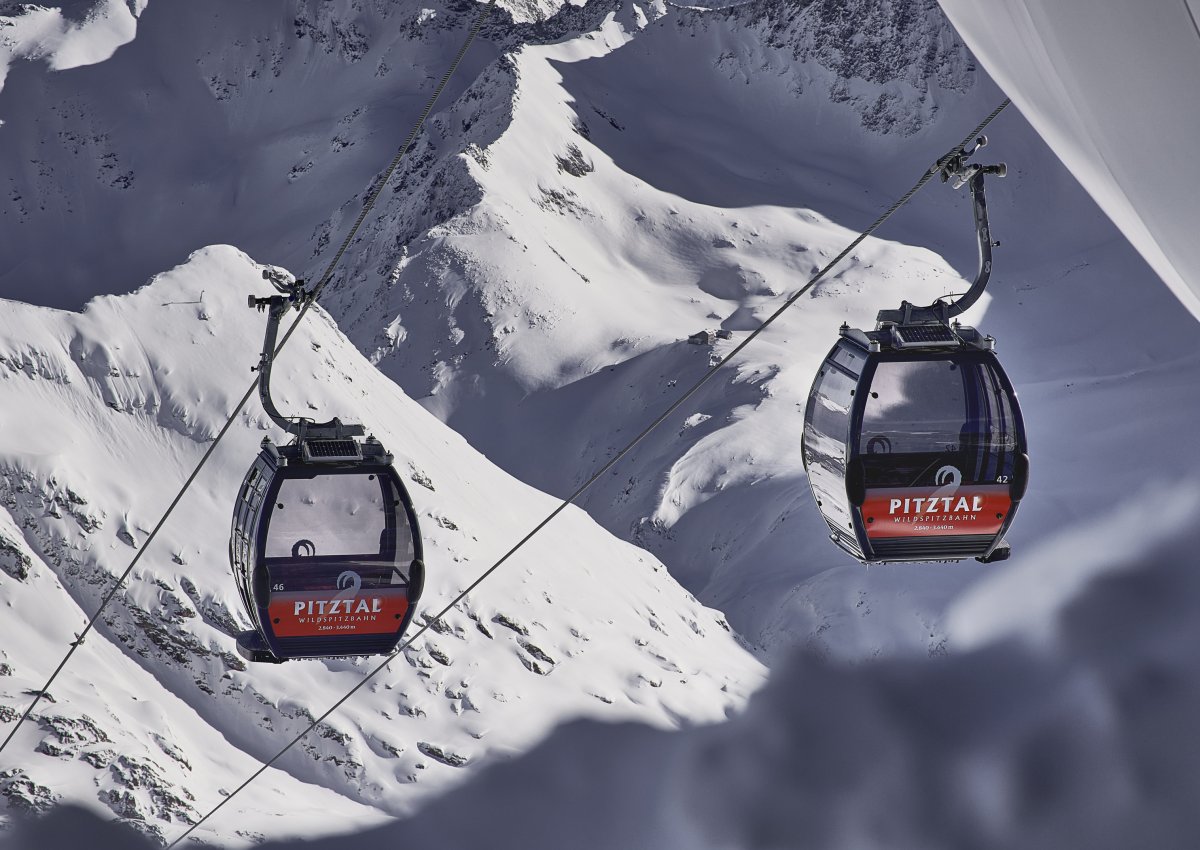 Technical data
Horizontal length 1,917.50 m
Height difference 600 m
Inclined length 2,006.63 m
Travel time 6 min
Transport capacity 2,186 persons/hour
Rolling stock 61 units
You surely aren't aware yet ...
Hans Rubatscher is a pioneer when it comes to alpine heights. He was the innovator of a new generation of gondolas with the construction of the Wildspitzbahn. The ski transport outside the gondola was simply shifted to the interior. This innovative system improves the comfort of winter sports enthusiasts. It also reduces the weight and power consumption of cable cars. Doppelmayr has since offered this type of gondola to other ski resorts.